Music Trial Course 2017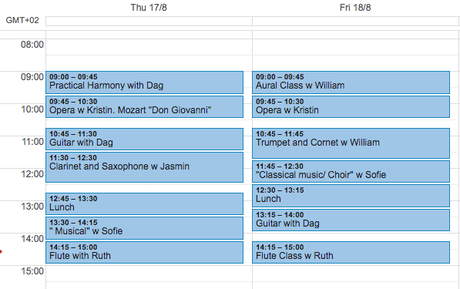 A warm welcome from Oslo International Music School!
Above is the timetable of the trial course we had Thursday 17 August and Friday 18 August 2017.
During the course, students had many different group lessons: e.g. guitar, singing, flute, Clarinet, Saxophone, Trumpet, Cornet, etc. 
They also learned to sing an Aria from Opera and some tunes from a musical. They had some training on pulse, listening, rhythms, improvisation, and harmony.
It was such a great fun that we would like to do the course again during one of these weekends if we get enough interest. Parents are welcome too. Please write to lirica_yamase@yahoo.com if you or/ and your children are.
Plan
Time: 10.00-16.00
Day: Please let us know which weekend would suit you. We will start when we get 8 students.
Place: Oslo International School
Price: 1500NOK for two days
Contact: lirica_yamase@yahoo.com